ROBERT HUOT, CAROL KINNE "4 Carols + Plus"
20 novembre 2008 - 10 janvier 2009
ROBERT HUOT & CAROL KINNE : 4 CAROLS + PLUS
NOVEMBER 20, 2008 – JANUARY 10, 2009
VERNISSAGE : THURSDAY NOVEMBER 20, 2008 FROM 6 TO 8PM
GALERIE ARNAUD LEFEBVRE – 30 RUE MAZARINE – 75006 PARIS
T: 33 (0)1 43 26 50 67 – www.galeriearnaudlefebvre.com (Mon-Sat : 2 :30pm-6 :30pm)
ROBERT HUOT AND CAROL KINNE
4 Carols +,
2006
Photographed with Canon Power Shot SD400 digital camera
Printed on Epson 1280 ink jet printer, on Heavy Duty Photo Mat Paper
"4 Carols +
has a long history and at least three outcomes. The 4 Carols are silhouettes of Carol painted in the four visual primaries (red, yellow, blue, and green) and the "+" is photographic images of Carol with the paintings.
The stretchers of the paintings are Carol's height and width (68 x 22) and were built by Carol in the early 1970's for a four panel abstract painting that she later destroyed
One of the outcomes of
4 Carol's +
is the four painted panels with a full size photo of Carol. The second outcome is this piece composed of 25 images selected from the 200 images we made this summer (2006). The third outcome is a computer animation made up of most of the original images." —Robert Huot
CAROL KINNE
Atomic Baby,
1989
Ink Jet print, 49 panels
"1942 Nuclear Chain Reaction - (12/2/42) For the first time, a nuclear chain reaction was achieved in an atomic pile. The chain reaction occurred at the University of Chicago, under the direction of Enrico Fermi.
Twelve days later I was born, a child of the nuclear age. This coincidence was the inspiration for a series entitled Atomic Baby.
My childhood was shaped by the Cold War - air raid drills in school, news reels featuring test bomb blasts, instructions for duck n' cover and not too comforting films about how to protect against fall out. Public Fall Out shelters appeared on all over the place and there was lots of information available about how to build a personal fall out shelter. Fear of the Russians was ever present.
After the Cold war "ended", nuclear fear didn't end. Melt downs in power plants and a provocative foreign policy that made everyone want nuclear power for self-protection kept the nuclear age going.
These were the events that informed the "Atomic Baby" works.
The piece installed here is made of 49 panels, hung in a 7 x 7 grid with a picture of me – the Atomic Baby – on a shelf in the middle. The prints were created on my Amiga Computer with a program that created a poster-sized image from a smaller one. Each of the panels was printed on my inkjet printer and then numbered so I could put the pieces together in the correct pattern. The resulting crystal-like patterns indicate how the printer dealt with color gradations in the original. When trying to make another copy of the prints I discovered that each time the program ran, it read the data differently." —Carol Kinne
CAROL KINNE
Four and Twenty Blackbirds
Interactive Animation, 2006
Website: computer generated flash animation
"A Work in Progress.
This work is a drawn version of a large painting of the same title. The drawings were scanned and then arranged in a grid on the computer. With Dreamweaver, a web-authoring program, I was able to make "rollovers" of selected elements in the grid, so that when you run the curser over the images, animations appear." —Carol Kinne
CAROL KINNE

Kosovo Landscape, 2003
oil on canvas, installation
"I made this painting from war footage that I found on the internet of US bombing raids targeting various sites in Kosovo and Serbia. The images come from surveillance photos taken from airplanes as they were dropping bombs on the countyside below.
I was struck by the similarity of the Kosovo landscape and my own in central New York state. Several pieces resulted in which I tried to imagine what it would be like to have tanks, bombers and artillery invading the farming community in which I live.
I also made several flip-books inserting war machinery into scenes from my farm." —Carol Kinne
CAROL KINNE
Necessity is the Mother of Invention,
1994
Images: Injet printer/acetate and rag paper.
Text: Dot matrix printer/rag paper.
"My earliest web explorations were before the internet had browsers, images and "websites". The internet was one big database. Most of the sites were government data collections and there were many places to explore. All were just pages of text with internal links to related material. It was very easy to get lost while following a link and hard to find the way back to the original page
Among the most interesting was the Patents database where I was able to access patents for Personal Fallout Shelters. They were all in proper "patent" text (no pictures) and I made up the images from the descriptions
Each piece in this installation consists of an atomic bomb image with an acetate overlay of my interpretation of the description and then the actual text from the patent description on the side." —Carol Kinne
ROBERT HUOT & CAROL KINNE : 4 CAROLS + PLUS
20 NOVEMBRE 2008 – 10 JANVIER 2009
VERNISSAGE : JEUDI 20 NOVEMBRE 2008 DE 18H À 20H
GALERIE ARNAUD LEFEBVRE – 30 RUE MAZARINE – 75006 PARIS
T: 33 (0)1 43 26 50 67 – www.galeriearnaudlefebvre.com (Lun-Sam : 14h30-18h30)


ROBERT HUOT ET CAROL KINNE
4 Carols +
, 2006
Robert Huot et Carol Kinne
Photographié avec Canon Power Shot SD400 appareil photo digital
Imprimé sur Epson 1280 à  jet d'encre, sur papier photo mat haute performance.


"4 Carols +
a une longue histoire et au moins trois aboutissements. Les 4 Carols sont des silhouettes de Carol peintes dans les quatre primaires visuelles (rouge, jaune, bleu, et vert) et le « + » est les images photographiques de Carol avec les peintures.
Les châssis des peintures sont les hauteur et largeur de Carol (173 x 56 cm) et ont été construits par Carol au début des années 70 pour une peinture abstraite de quatre panneaux qu'elle a détruite par la suite.

Un des aboutissements de
4 Carol's +
est les quatre panneaux peints avec une photo grandeur nature de Carol. Le second aboutissement est cette pièce composée de 25 images sélectionnées parmi les 200 images que nous avons faites cet été (2006). Le troisième aboutissement est une animation par ordinateur composée de la plupart des images originales." —
Robert Huot



CAROL KINNE
Atomic Baby
(Bébé atomique), 1989
impression à jet d'encre, 49 panneaux

"1942 Réaction nucléaire en chaîne - (12/2/42) Pour la première fois, une réaction nucléaire en chaîne a été réalisée dans une pile atomique. La réaction en chaîne a eu lieu à l'Université de Chicago, sous la direction d'Enrico Fermi.

Douze jours après ma naissance, un enfant de l'âge nucléaire. Cette coïncidence a été l'inspiration pour une série intitulée Atomic Baby.

Mon enfance a été façonnée par la Guerre froide — exercices de raids aériens à l'école, actualités du cinéma représentant des souffles de tests de bombes, instructions pour se mettre à couvert et des films pas très rassurants sur la façon de se protéger contre les retombées radioactives. Les abris antiatomiques publics sont apparus partout et il y avait plein d'informations sur la façon de construire des abris antiatomiques personnels. La peur des Russes était toujours présente.

Après que la Guerre froide s'est "achevée", la peur nucléaire ne s'est pas arrêtée. Des fusions dans les centrales électriques et une politique étrangère provocatrice qui amenait tout le monde à vouloir la puissance nucléaire fit continuer l'âge nucléaire.
Ce furent les événements qui ont informé les travaux "Atomic Baby".

La pièce installée ici est constituée de 49 panneaux, accrochés dans une grille de 7 x 7 avec une photo de moi — le bébé atomique — sur une étagère au milieu. Les tirages ont été faits sur mon ordinateur Amiga avec un programme qui créait une image de la taille d'une affiche à partir d'une plus petite. Chacun des panneaux a été imprimé sur mon imprimante à jet d'encre puis numéroté afin que je puisse mettre les pièces ensemble dans la bonne disposition. La disposition résultante comme du cristal indique la façon dont l'imprimante a traité les gradations de couleur dans l'original. Quand j'ai essayé de faire un autre exemplaire des tirages je me suis aperçue qu'à chaque fois que le programme fonctionnait, il lisait les données différemment." —
Carol Kinne



CAROL KINNE
Four and Twenty Blackbirds
(Quatre et vingt merles)
Animation interactive, 2006
Site web: animation flash générée par ordinateur

"Un travail en cours

Ce travail est une version dessinée d'une grande peinture du même titre. Les dessins ont été scannés et puis arrangés dans une grille sur l'ordinateur. Avec Dreamweaver, un programme web-authoring, j'ai pu faire des "remises en jeu" d'éléments sélectionnés dans la grille, de sorte que lorsque l'on fait passer le curseur sur les images, l'animation apparaît." —
Carol Kinne



CAROL KINNE
Kosovo Landscape
(Paysage du Kosovo), 2003
huile sur toile, installation

"J'ai fait cette peinture à partir de morceaux de reportages de guerre que j'ai trouvés sur internet, de raids de bombardements américains pointés sur divers sites au Kosovo et en Serbie. Les images viennent des photos de surveillance prises des avions pendant qu'ils jetaient des bombes sur la campagne en dessous.

J'étais frappée par la similitude entre le paysage du Kosovo et mon propre paysage de l'État central de New York. Plusieurs pièces en ont résulté où j'ai essayé d'imaginer ce que cela serait d'avoir des tanks, des bombardiers et de l'artillerie envahissant la communauté de fermes où je vis.

J'ai aussi fait plusieurs flip-books [livres dont les images s'animent quand on feuillette les pages] insérant de la machinerie de guerre dans des vues de ma ferme." —
Carol Kinne



CAROL KINNE
Necessity is the Mother of Invention (
Nécessité est la mère d'invention), 1994
Images: imprimeur à jet d'encre / acétate et papier chiffon
Texte: imprimeur matriciel / papier chiffon

"Mes explorations du début sur le web étaient avant qu'internet n'ait des navigateurs, des images, et des "sites web". L'internet était une grosse base de données. La plupart des sites étaient des collections de données du gouvernement et il y avait beaucoup d'endroits à explorer. Tout n'était que pages de textes avec des liens internes à des matériaux en rapport. C'était très facile de se perdre en suivant un lien et difficile de retrouver le chemin vers la page originale.

Dans ce qui était le plus intéressant, il y avait la base de donnée des Brevets où je pouvais avoir accès à des brevets pour des abris antiatomiques personnels. Ils étaient tous en propre texte "brevet" (pas d'images) et j'ai inventé les images d'après les descriptions.

Chaque pièce dans cette installation consiste en une image de bombe atomique avec un recouvrement acétate de mon interprétation de la description, et ensuite du texte réel de la description du brevet sur le côté." —
Carol Kinne
2008 © Robert Huot, Carol Kinne
traduction Arnaud Lefebvre
Lien:
http://www.roberthuot.com
http://www.carolkinne.net
Exhibit Images


ROBERT HUOT & CAROL KINNE
"4 Carols +"
2008 © Robert Huot & Carol Kinne


ROBERT HUOT, "4 CAROLS", 2005, ACRYLIC + CHARCOAL ON CANVAS (ACRYLIQUE ET FUSAIN SUR TOILE), 4 TIMES 68" X 22" TOTAL 68" X 100" (4 FOIS 173 X 56 CM, TOTAL 173 X 243 CM)
2008 © Robert Huot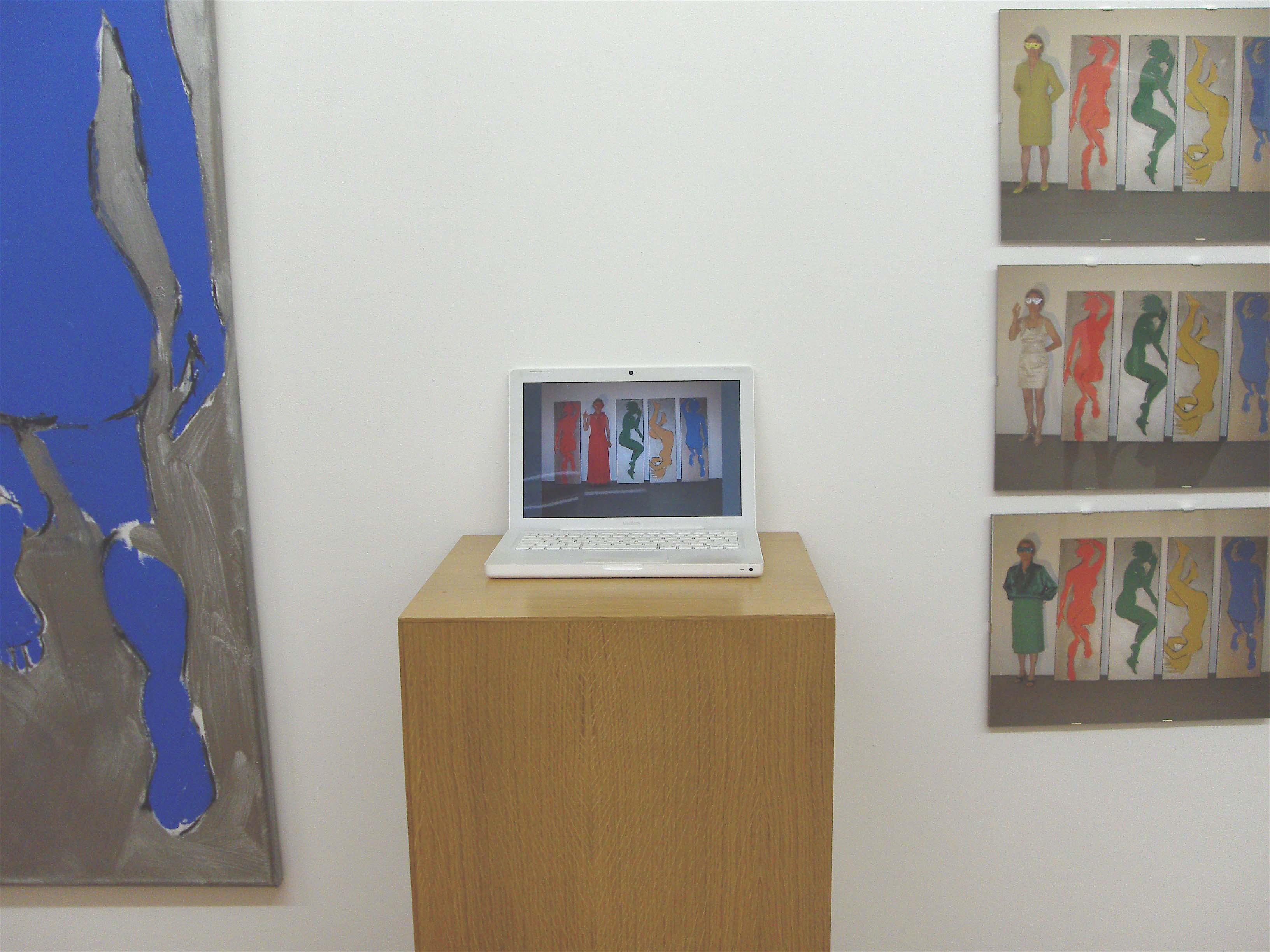 ROBERT HUOT & CAROL KINNE, Animation "4 CAROLS +", 2008, CD
2008 © Robert Huot & Carol Kinne


ROBERT HUOT & CAROL KINNE, EDITION "4 CAROLS +", 2006, N° 1/5, IMPRESSION À JET D'ENCRE, 25 FOIS 30 X 40 CM, TOTAL 162 X 212 CM
2008 © Robert Huot & Carol Kinne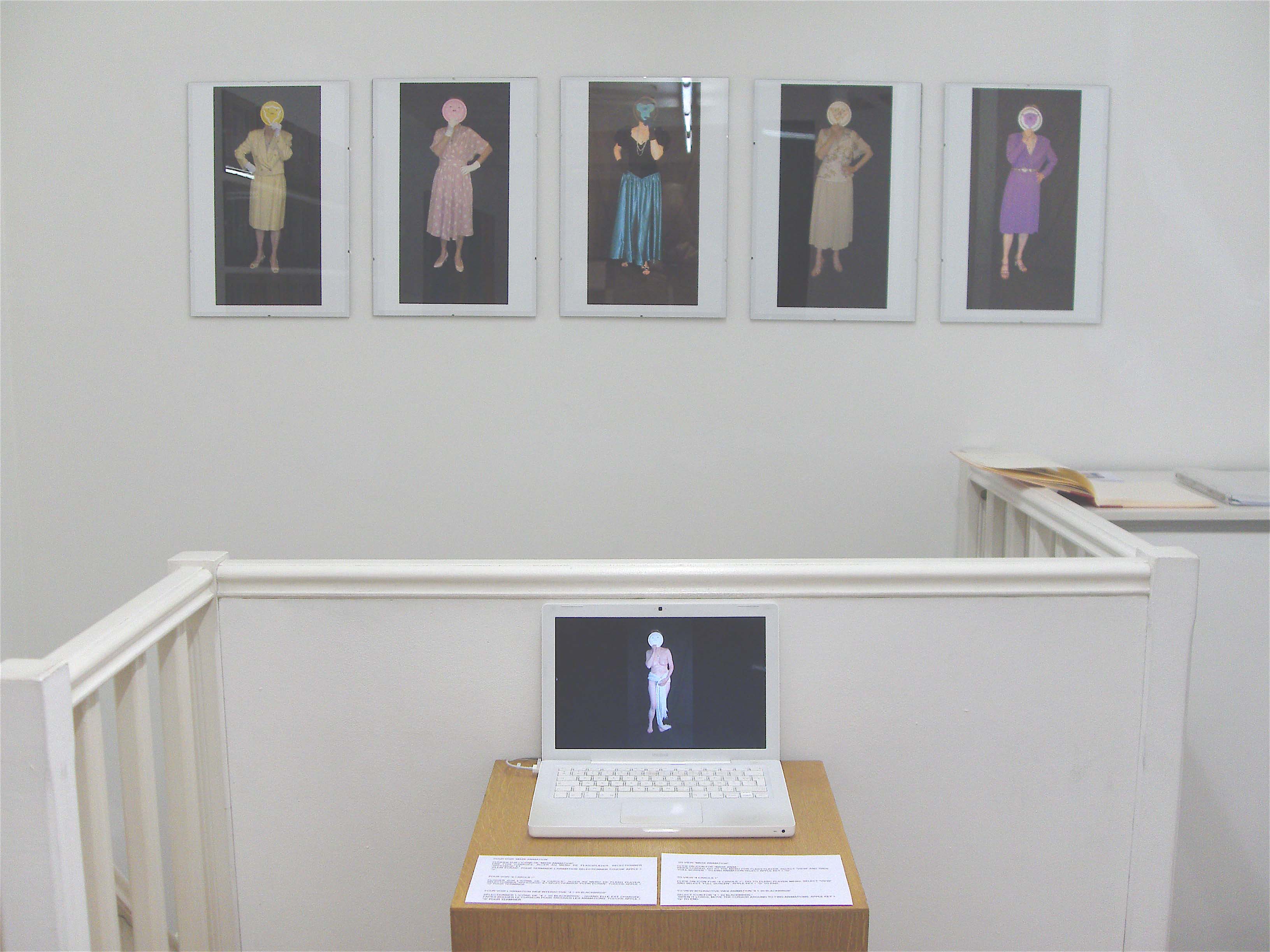 ROBERT HUOT & CAROL KINNE, FROM "MASKS 2"
2008 © Robert Huot & Carol Kinne


ROBERT HUOT & CAROL KINNE, GROUP OF 5 FROM "MASKS 2" : GREEN QUEEN AND HER LAIDIES IN-WAITING,ÉDITION DE 5, N° 1/5, IMPRESSION À JET D'ENCRE, 5 FOIS 48 X 33 CM, TOTAL 50 X 195 CM
2008 © Robert Huot & Carol Kinne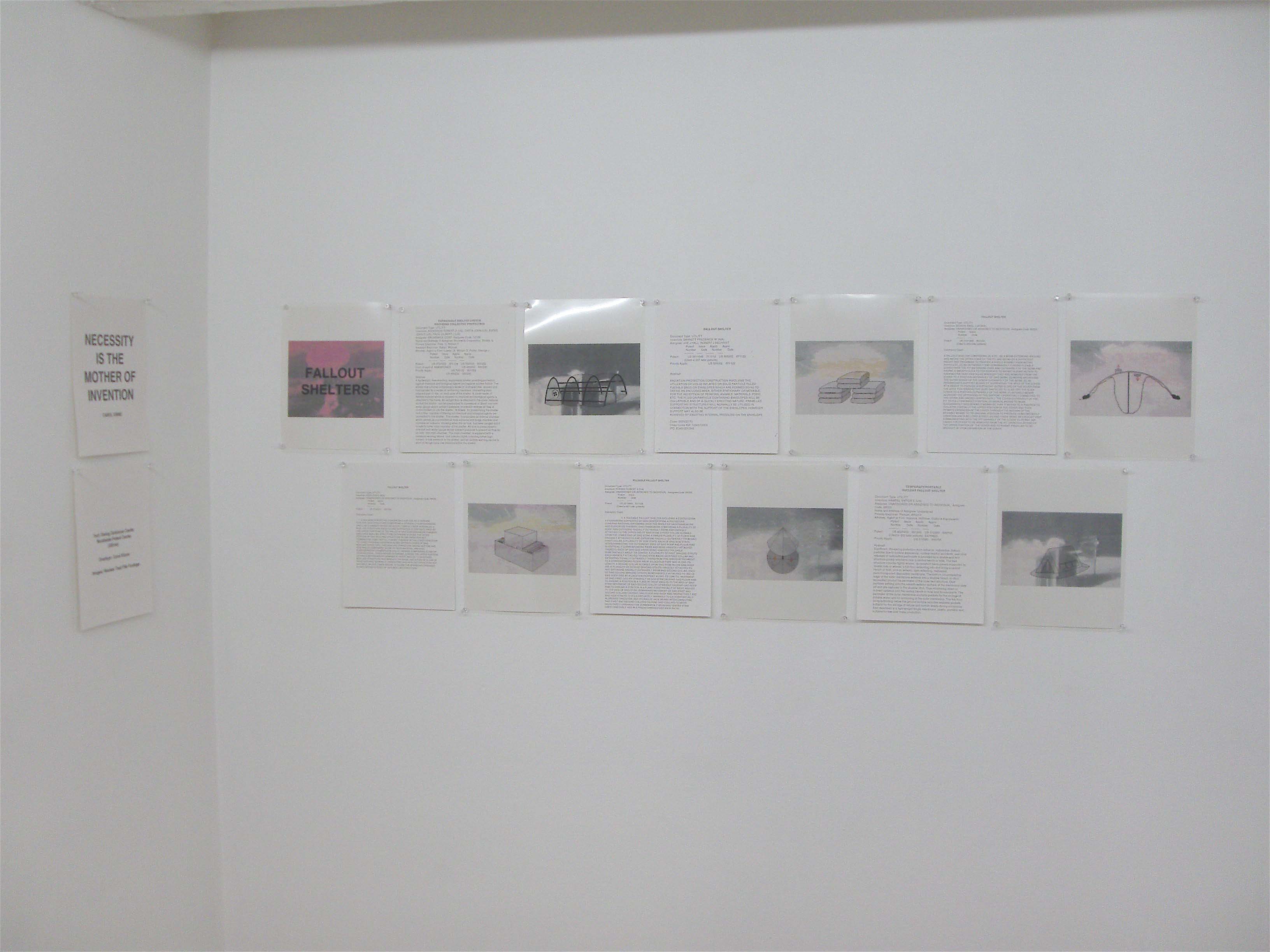 CAROL KINNE , NECESSITY IS THE MOTHER OF INVENTION, 1994, 15 PAGES DONT 6 BREVETS D'ABRIS ANTIATOMIQUES AVEC L'IMAGE FABRIQUÉE S'Y RAPPORTANT
2008 © Carol Kinne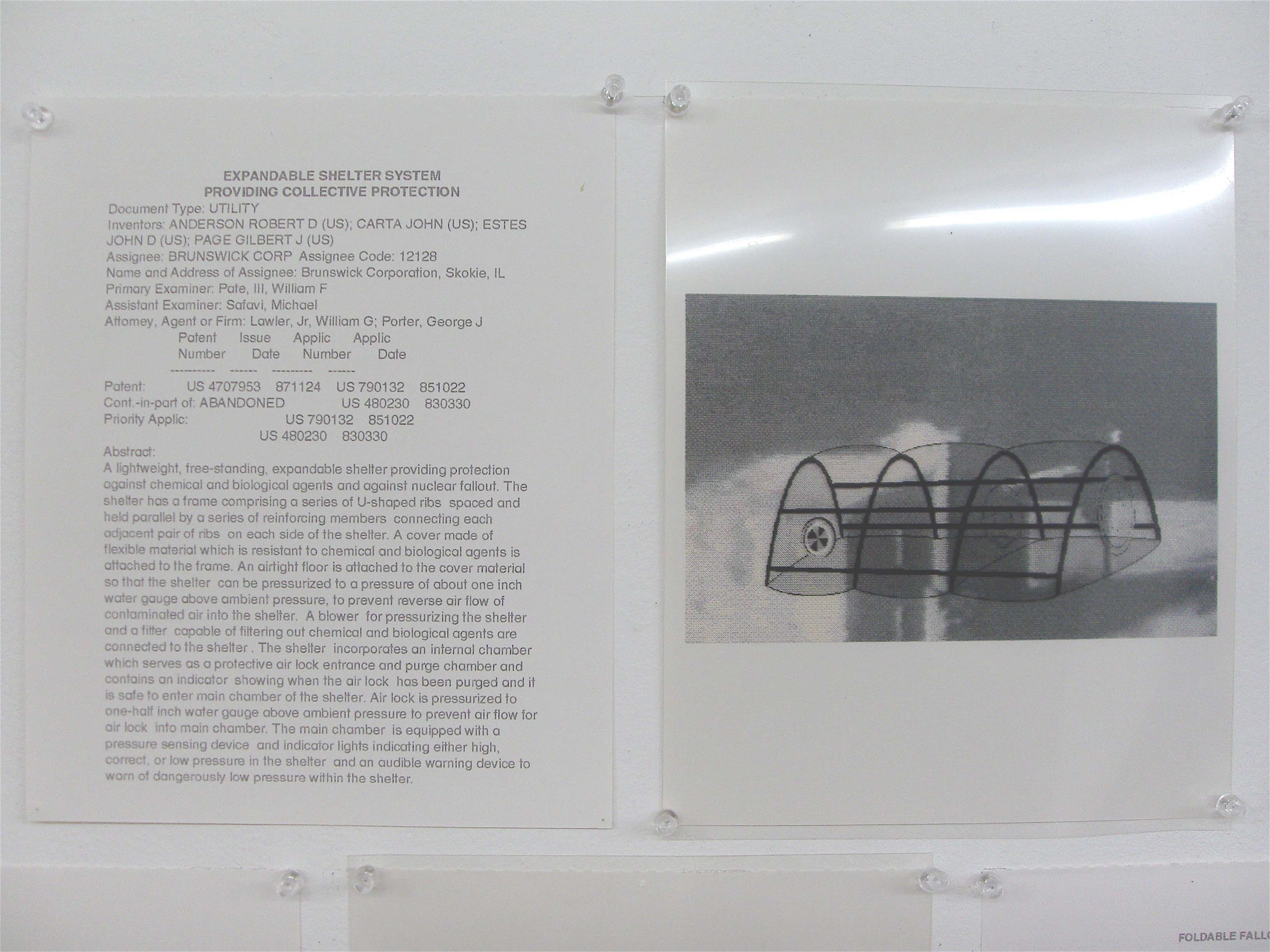 CAROL KINNE , NECESSITY IS THE MOTHER OF INVENTION, 1994, détail (1)
2008 © Carol Kinne

EXPANDABLE SHELTER SYSTEM
PROVIDING COLLECTIVE PROTECTION

Abstract :
A lightweight, free-standing, expandable shelter providing protection against chemical and biological agents and against nuclear fallouts. The shelter has a frame comprising a series of U-shaped ribs spaced and held parallel by a series of reinforcing members connecting each adjacent pair of ribs on each side of the shelter. A cover made of flexible material which is resistant to chemical and biological agents is attached to the frame. An airtight floor is attached to the cover material so that the shelter can be pressurized to a pressure of about one inch water gauge above ambient pressure, to prevent reverse air flow of contaminated air into the shelter. A blower for pressurizing the shelter and a filter capable of filtering out chemical and biological agents are connected to the shelter. The shelter incorporates an internal chamber which serves as a protective air lock entrance and purge chamber and contains an indicator showing when the air lock has been purged and it is safe to enter main chamber of the shelter. Air lock is pressurized to one-half inch water gauge above ambient pressure to prevent air flow for air lock into main chamber. The main chamber is equipped with a pressure sensing device and indicator lights indicating either high, correct, or low pressure in the shelter and an audible warning device to warn dangerously low pressure within the shelter.

SYSTÈME D'ABRI EXTENSIBLE
FOURNISSANT UNE PROTECTION COLLECTIVE

Résumé:
Un abri extensible léger et autoportant, procurant une protection contre les agents chimiques et biologiques et contre les retombées radioactives. L'abri a une structure comprenant une série d'armatures en forme de U espacées et maintenues parallèles par une série d'éléments de renfort qui connectent entre eux deux par deux les armatures adjacentes sur chacun des côtés de l'abri. Une couverture faite d'un matériau flexible et résistant aux agents chimiques et biologiques est fixée à  la structure. Un sol hermétique est fixé au matériau de couverture de sorte que l'abri peut être pressurisé à  un taux d'environ un pouce d'indicateur de niveau d'eau au-dessus de la pression ambiante, pour empêcher le retour de flux de l'air contaminé à  l'intérieur de l'abri. Une soufflerie pour pressuriser l'abri et un filtre capable de tamiser les agents chimiques et biologiques sont reliés à  l'abri. L'abri incorpore une chambre interne qui agit en tant que sas à  air protecteur d'entrée et chambre de purge et qui contient un témoin indiquant quand le sas à  air a été purgé et l'entrée dans la chambre principale de l'abri est sans risque. Le sas à  air est pressurisé à  un demi pouce d'indicateur de niveau d'eau au-dessus de la pression ambiante pour empêcher le flux de l'air pour le sas à  air vers l'intérieur de la chambre principale. La chambre principale est équipée d'un appareil détecteur de pression et de témoins lumineux indiquant soit la haute, la correcte ou la basse pression dans l'abri et d'un appareil d'alarme sonore pour avertir de la pression dangereusement basse à  l'intérieur de l'abri.

(traduction Arnaud Lefebvre)


CAROL KINNE , "NECESSITY IS THE MOTHER OF INVENTION", 1994, détail (2)
2008 © Carol Kinne

FALLOUT SHELTER

Abstract:
RADIATION PROTECTION CONSTRUCTION INVOLVING THE UTILIZATION OF LIQUID INFLATED OR SOLID PARTICLE FILLED FLEXIBLE BAGS OR ENVELOPES WHICH ARE FORMED SO AS TO DEFINE AN ENCLOSED AREA, EITHER STATIONARY OR MOVABLE, FOR THE RECEPTION OF PERSONS, ANIMALS, MATERIALS, FOOD, ETC. THE FLUID OR PARTICLE CONTAINING ENVELOPES WILL BE COLLAPSIBLE AND OF A QUICKLY ERECTING NATURE, FRAME-LIKE SUPPORTING STRUCTURES WILL NORMALLY BE UTILIZED IN CONNECTION WITH THE SUPPORT OF THE ENVELOPES, HOWEVER SUPPORT MAY ALSO BE ACHIEVED BY EXERTING INTERNAL PRESSURE ON THE ENVELOPE.

ABRI ANTIATOMIQUE

Résumé:
CONSTRUCTION DE PROTECTION DES RADIATIONS COMPRENANT L'UTILSATION DE SACS OU D'ENVELOPPES GONFLÉS DE LIQUIDE OU REMPLIS DE PARTICULES SOLIDES QUI SONT INSTALLÉS DE MANIÈRE À DÉFINIR UNE ZONE FERMÉE, SOIT STATIONNAIRE SOIT MOBILE, POUR L'ACCUEIL DE PERSONNES, D'ANIMAUX, DE MATÉRIELS, D'ALIMENTATION, ETC. LES ENVELOPPES CONTENANT DU FLUIDE OU DES PARTICULES SERONT DÉMONTABLES ET DE NATURE À ÊTRE RAPIDEMENT MONTÉES, LES STRUCTURES PORTANTES DE TYPE CADRE SERONT NORMALEMENT UTILISÉES EN LIAISON AVEC LE SUPPORT DES ENVELOPPES, LEQUEL SUPPORT CEPENDANT PEUT ÊTRE AUSSI RÉALISÉ PAR L'EXERCICE D'UNE PRESSION INTERNE SUR L'ENVELOPPE.

(traduction Arnaud Lefebvre)


CAROL KINNE , "NECESSITY IS THE MOTHER OF INVENTION", 1994, détail (3)
2008 © Carol Kinne

FALLOUT SHELTER

A FALLOUT SHELTER COMPRISING (A) A PIT, (B) A BERM EXTENDING AROUND AND ABOVE THE UPPER EDGE OF THE PIT AND BEING OF A SUFFICENT HEIGHT AND THICKNESS TO PROVIDE A SHIELD AGAINST RADIOACTIVE PARTICLES, (C) AN OUTWARDLY AND DOWNWARDLY FLARING FLEXIBLE COVER OVER THE PIT EXTENDING OVER AND OUTWARDLY OF THE BERM AND HAVING A SMOOTH SLICK OUTER SURFACE TO IMPART SLIDING ACTION TO RADIOACTIVE DUST PARTICLES WHEREBY THEY ARE REMOVED FROM THE COVER TO A POSITION OUTWARDLY OF SAID BERM, (D) MEANS ANCHORING THE OUTER EDGES OF THE COVER OUTWARDLY OF THE BERM, (E) AN INTERMEDIATE SUPPORT IN SAID PIT SUPPORTING THE APEX OF THE COVER AT A HEIGHT TO PROVIDE A SUFFICIENT OUTER SLOPE OF THE COVER FROM THE APEX FOR RADIOCATIVE DUST PARTICLES TO SLIDE OFF THE SLICK COVER TO A POSITION OURWARDLY OF THE BERM, (F) MOVABLE MEANS ADJACENT THE UPPER END OF THE SUPPORT OPERATIVELY CONNECTED TO THE COVER AND URGING CONTINUOUSLY THE COVER OUTWARDLY OF THE PIT TO FULLY EXPANDED POSITION, (G) MANUAL MEANS TO MOVE SUCCESSIVELY SAID MOVABLE MEANS SO THAT IT MOVES TO A POSITION TO COLLAPSE PARTIALLY THE UPPER PORTION OF THE COVER AND THEN PERMITS EXPANSION OF THE COVER THROUGH THE RETURN OF THE MOVABLE MEANS TO ITS ORIGINAL POSITION TO PRODUCE CONCOMITANTLY VIBRATION AND A BELLOWS EFFECT, (H) AND THERE BEING AN EXHAUST VENT COMMUNICATING WITH THE PIT INWARDLY OF THE COVER TO PERMIT AIR UNDER THE COVER TO BE REMOVED FROM THE PIT UPON COLLAPSING OF THE UPPER PORTION OF THE COVER AND TO PERMIT FRESH AIR TO BE BROUGHT UPON EXPANSION OF THE COVER.

ABRI ANTIATOMIQUE

UN ABRI ANTIATOMIQUE COMPRENANT (A) UNE FOSSE, (B) UN BAS-CÔTÉ S'ÉTENDANT AUTOUR ET AU-DESSUS DU BORD SUPÉRIEUR DE LA FOSSE ET ÉTANT D'UNE HAUTEUR ET D'UNE ÉPAISSEUR SUFFISANTES POUR FAIRE OFFICE DE BOUCLIER CONTRE LES PARTICULES RADIOACTIVES, (C) UNE COUVERTURE FLEXIBLE S'ÉVASANT VERS L'EXTÉRIEUR ET VERS LE BAS AU-DESSUS DE LA FOSSE ET S'ÉTENDANT AU-DESSUS ET VERS L'EXTÉRIEUR DU BAS-CÔTÉ ET AYANT UNE SURFACE EXTERNE HOMOGÈNE LISSE POUR DONNER UNE ACTION DE GLISSEMENT AU PARTICULES DE POUSSIÈRE RADIOACTIVE QUI LES ÔTE DE LA COUVERTURE VERS UNE POSITION À L'EXTÉRIEUR DU-DIT BAS-CÔTÉ, (D) DES MOYENS D'ANCRAGE DES BORDS EXTERNES DE LA COUVERTURE À L'EXTÉRIEUR DU BAS-CÔTÉ, (E) UN SUPPORT INTERMÉDIAIRE DANS LA-DITE FOSSE SUPPORTANT LE SOMMET DE LA COUVERTURE À UNE HAUTEUR PROCURANT UNE PENTE EXTERNE SUFFISANTE DE LA COUVERTURE À PARTIR DU SOMMET POUR QUE LES PARTICULES DE POUSSIÈRE RADIOACTIVE GLISSENT HORS DE LA COUVERTURE LISSE VERS UNE POSITION À L'EXTÉRIEUR DU BAS-CÔTÉ, (F) DES MOYENS MOBILES ADJACENTS AU BOUT SUPÉRIEUR DU SUPPORT RELIÉS OPÉRATIONELLEMENT À LA COUVERTURE ET EXERÇANT UNE POUSSÉE CONTINUELLE SUR LA COUVERTURE À L'EXTÉRIEUR DE LA FOSSE VERS UNE POISITION D'ENTIÈRE EXTENSION, (G) DES MOYENS MANUELS DE DÉPLACER LES-DITS MOYENS MOBILES DE SORTE QU'ILS SE DÉPLACENT VERS UNE POSITION D'EFFONDREMENT PARTIEL DE LA PORTION SUPÉRIEURE DE LA COUVERTURE ET PERMETTENT ENSUITE UNE EXPANSION DE LA COUVERTURE À TRAVERS LE RETOUR DES MOYENS MOBILES À LEUR POSITION ORIGINALE POUR PRODUIRE DE FAÇON CONCOMITANTE UNE VIBRATION ET UN EFFET DE SOUFFLET, (H) ET TROUVANT-LÀ UN CONDUIT D'ÉVACUATION COMMUNIQUANT AVEC LA FOSSE À L'INTERIEUR DE LA COUVERTURE POUR PERMETTRE À L'AIR SOUS LA COUVERTURE D'ÊTRE ÉVACUÉ DE LA FOSSE LORS DE L'EFFONDREMENT DE LA PARTIE SUPÉRIEURE DE LA COUVERTURE ET POUR PERMETTRE À L'AIR FRAIS D'ÊTRE INTRODUIT LORS DE L'EXPANSION DE LA COUVERTURE.

(traduction Arnaud Lefebvre)


CAROL KINNE, "ATOMIC BABY", 1989
ROBERT HUOT & CAROL KINNE, PAIR FROM "MASKS 2" : GREEN AND SILVER , 2008
2008 © Robert Huot, Carol Kinne


CAROL KINNE, "ATOMIC BABY", 1989, 49 PANNEAUX, PETIT SOCLE EN BOIS ET PHOTO, IMPRESSION À JET D'ENCRE, 144 X 195 X 8 CM
2008 © Carol Kinne


CAROL KINNE, "ATOMIC BABY", 1989, détail
2008 © Carol Kinne



ROBERT HUOT & CAROL KINNE, PAIR FROM "MASKS 2" : GREEN AND SILVER , 2008, , ÉDITION DE 5, N° 1/5, IMPRESSION À JET D'ENCRE, 2 FOIS 48 X 33 CM
2008 © Robert Huot & Carol Kinne

ROBERT HUOT
"VASSAR TAPE PIECE", 1969, SILVER DUCT TAPE, TAILLE VARIABLE
2008 © Robert Huot


ROBERT HUOT & CAROL KINNE, GROUP OF 11 FROM "MASKS 2" : ELEVEN MAIDS A-MASKING, ÉDITION DE 5, N° 1/5, IMPRESSION À JET D'ENCRE, 11 FOIS 48 X 33 CM, TOTAL 50 X 435 CM
2008 © Robert Huot & Carol Kinne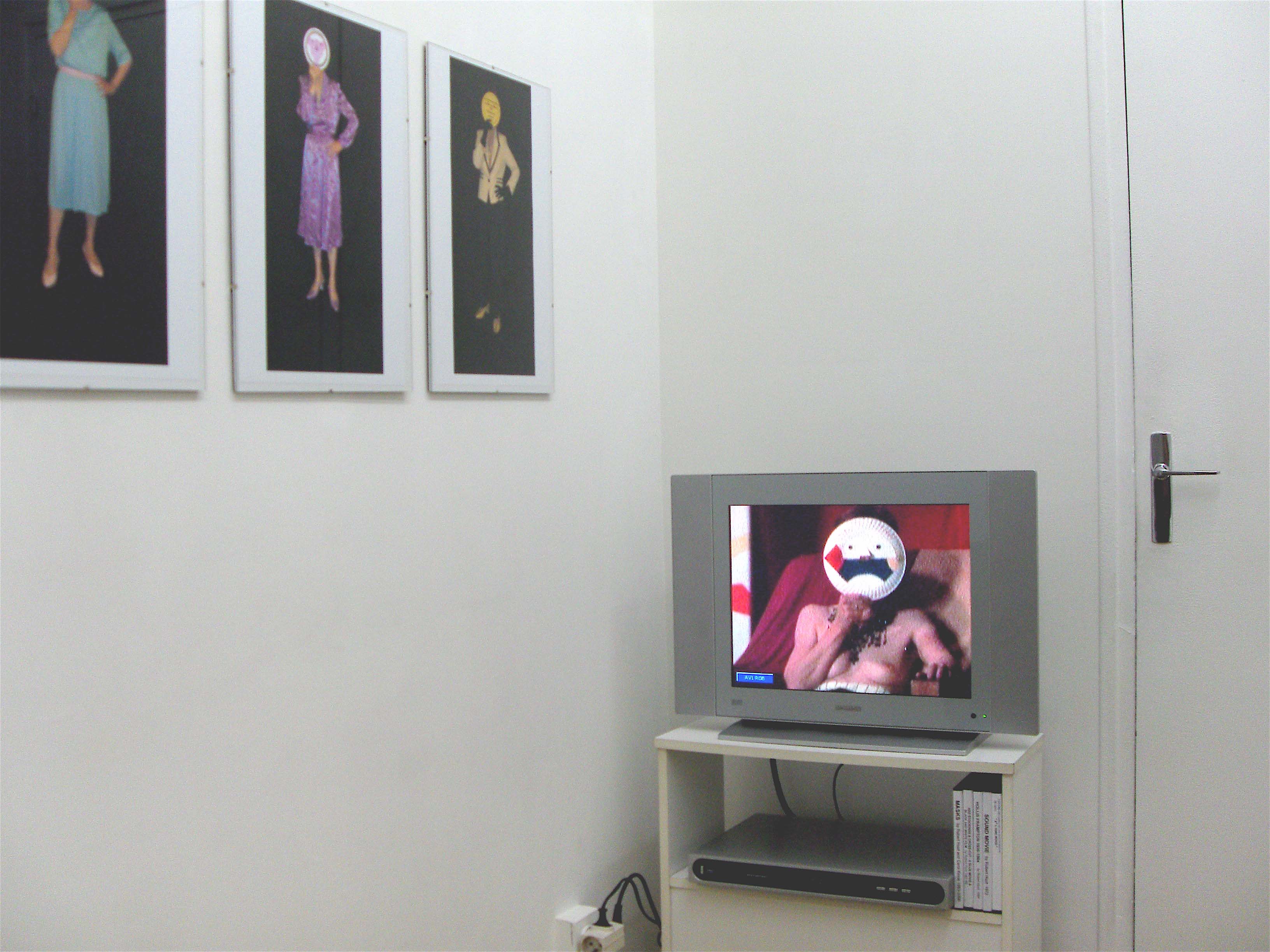 ROBERT HUOT & CAROL KINNE, VIDÉO "MASKS", 1983-2006, 14:00, ÉDITION À 25 EXEMPAIRES DVD
2008 © Robert Huot & Carol Kinne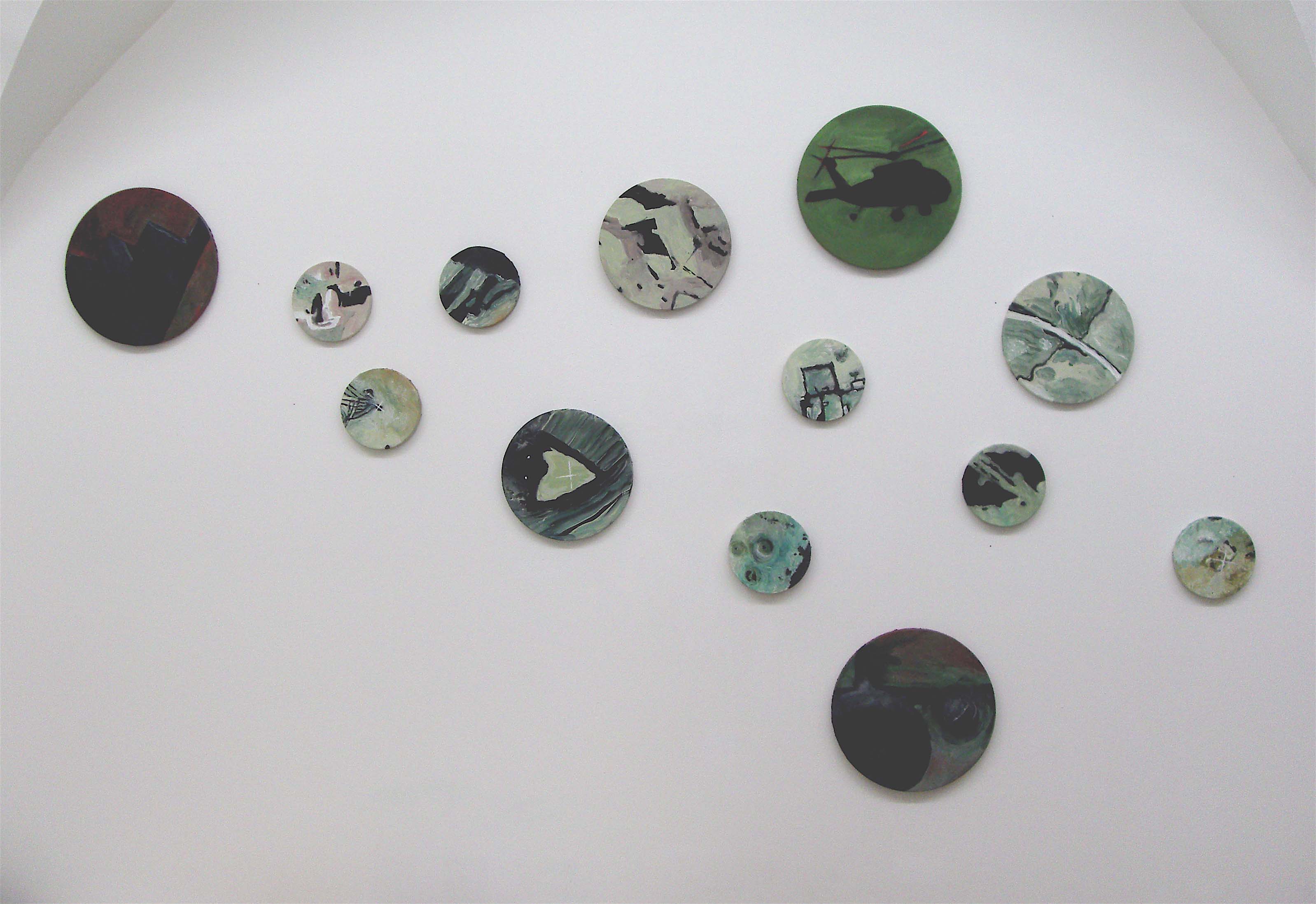 CAROL KINNE, "KOSOVO LANDSCAPE", 2003, INSTALLATION, HUILE SUR TOILE, 13 PARTIES, 3 FOIS ø 25 CM, 3 FOIS ø 20 CM, 7 FOIS ø 12,5 CM, TOTAL 107 X 210 CM
2008 © Carol Kinne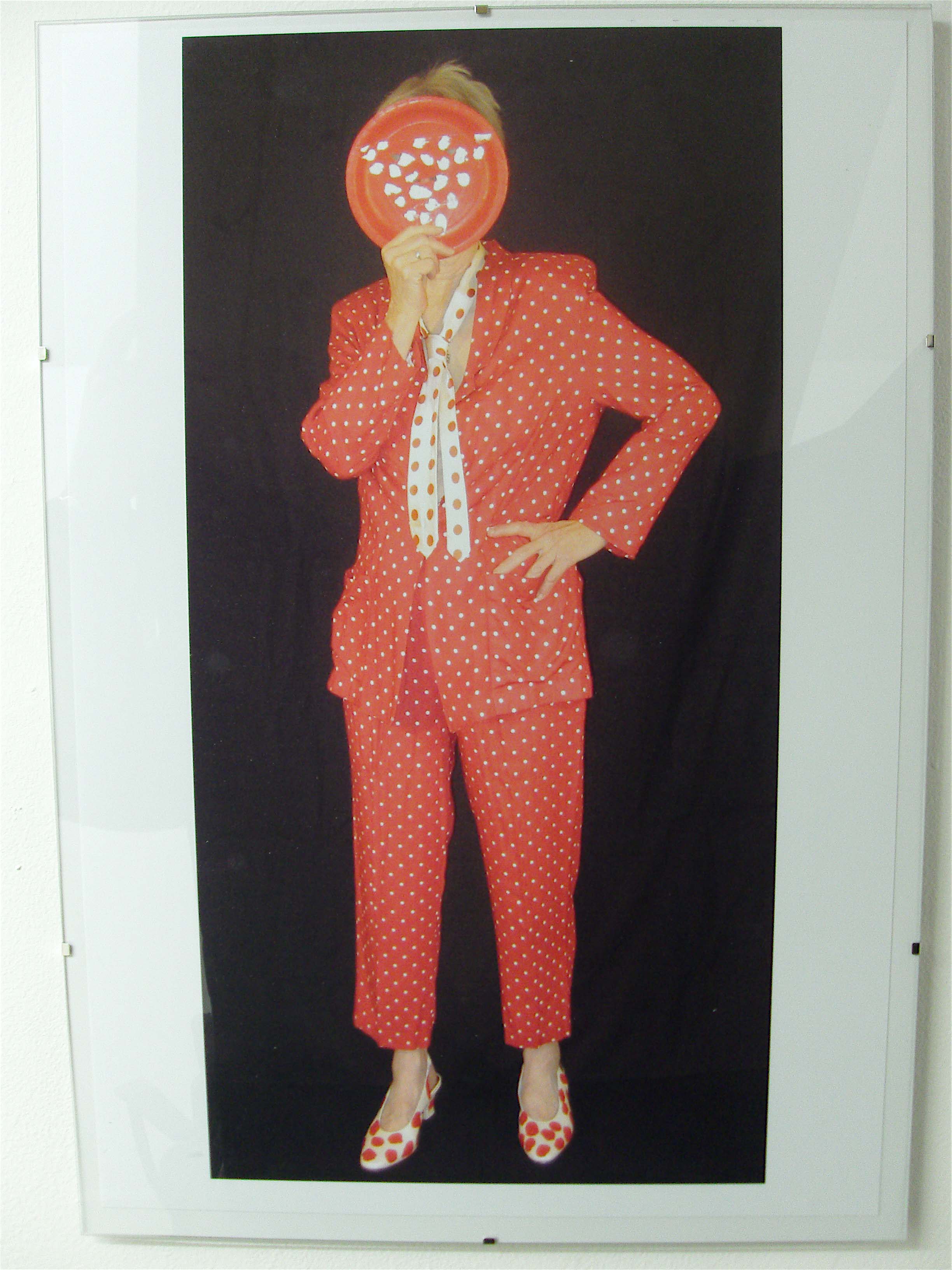 ROBERT HUOT & CAROL KINNE, SINGLE FROM "MASKS 2" : RED POLKA DOT, 2008, ÉDITION DE 5, N° 1/5, IMPRESSION À JET D'ENCRE, 48 X 33 CM
2008 © Robert Huot & Carol Kinne